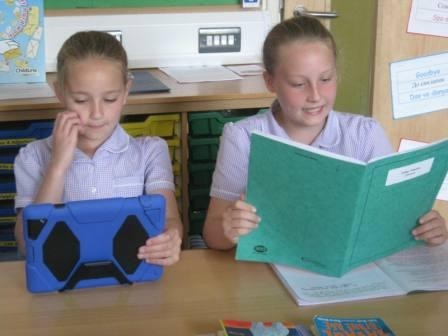 We aim to ensure that all children foster a love of reading and writing and that we prepare children for the next phase of their education. We teach English through dedicated 'literacy' lessons across the school, as well as continuously developing the skills across the curriculum. The discrete literacy lessons have slightly different formats depending on the age and stage of the pupils.
In the Early Years Foundation Stage there is a great emphasis on speaking and listening as well as phonics. Children have daily Literacy sessions and phonics sessions. Work is planned around relevant, exciting texts which foster a love of reading, speaking and writing.
In Key Stage 1 all pupils have a Literacy lesson daily; this involves speaking, listening, reading and writing. Phonics sessions are taught daily in groups related to the phases of phonics teaching and learning. The school has a rigorous and structured programme in place for teaching phonics, spelling and handwriting. Pupils learn to love books and other forms of text, including audio and visual texts. In writing the children are taught the skills in order to become confident writers and to write for a range of different purposes and audiences.
Key Stage 2 classes have a dedicated Literacy lessons which involve text, word and sentence level work. Children read whole class texts, learning about different genres of writing through these texts. They write regularly and receive feedback and targets to help them improve.
We are passionate about teaching children to read. Each child is heard individually by the teacher, volunteers and during guided reading. We have a levelled reading scheme linked to the children's phonic knowledge and reading of 'tricky' words. We also have dedicated guided reading sessions daily in all classes. These involve groups of children reading a text with an adult and discussing it in detail. A reading record supports home/school dialogue and parents are encouraged to hear their children read every night.
We are always looking for adults to support reading in school.
Below is some information about the changes to the curriculum .The new curriculum is intended to be more challenging, the content is actually slimmer than the current curriculum, focusing on essential core subject knowledge.
Stronger emphasis on vocabulary development, grammar, punctuation and spelling (for example, the use of commas and apostrophes will be taught in KS1)
Handwriting (not currently assessed under the national curriculum) is expected to be fluent, legible and speedy
Spoken English has a greater emphasis, with children to be taught debating and presenting skills. The children are taught a series of structured literacy lessons. This involves whole class teaching, group, guided and independent work. The children learn to read and write different fiction, non-fiction and poetry texts. At other times in the day the children listen to stories and are heard read.